Install with Android Spy Installer
---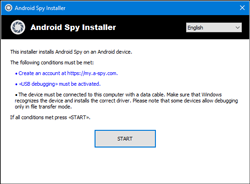 The Android Spy Installer offers the possibility to install the Android Spy app by using a Windows computer. This type of installation is fast, easy and offers the following advantages:
It's not necessary to deactivate Play Protect
All permissions already activated
Battery optimization already deactivated
Accessibility service already activated
Notification access already activated
The following conditions must be met:
The device must be connected to the computer with a data cable. Make sure that Windows recognizes the device and installs the correct driver. Please note that some devices allow debugging only in file transfer mode.